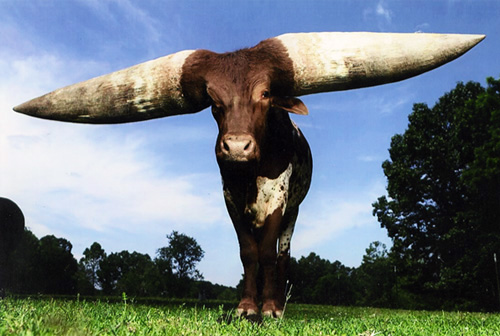 1995 – 2010
Lurch was an African Watusi steer that became an international celebrity. He is the Guinness Record holder for the largest circumference of horns of any animal in the world.  Lurch's inclusion in Guinness drew visitors from around the globe including Viet Nam, Kenya, the UK, Australia, Japan, Sweden, Canada and Germany as well most of the 50 US states to visit him at Rocky Ridge Refuge in Gassville, AR. He has appeared in six separate segments on thee different networks in Japan and recently appeared in the pages of Ripley's Believe It or Not! Lurch and Rocky Ridge appeared live in three segments of the Ellen Degeneres Show.
Lurch was born October 11, 1995 on a Watusi ranch in Missouri. I adopted Lurch when he was 5 weeks old, bringing him to live here at Rocky Ridge. By the time Lurch was two years old it was obvious his horns were not developing as a normal Watusi's would. At age three he already had the largest known horn circumference in the world but I wasn't convinced he was finished so I waited to contact Guinness. I finally submitted his measurements when he was 7 years old. They measured 37.5 inches. It wasn't too long after his official Guinness certification that Lurch broke his own record. Before his passing Lurch measured 38+ inches circumference and nearly 8 feet tip to tip.
I made this tribute the night Lurch passed and it says it all . . .
Lurch in Photos:
Lurch the Comedian:
Click on pictures to see captions